Gallery tour
Mitte Kreuzberg
by Christian Ganzenberg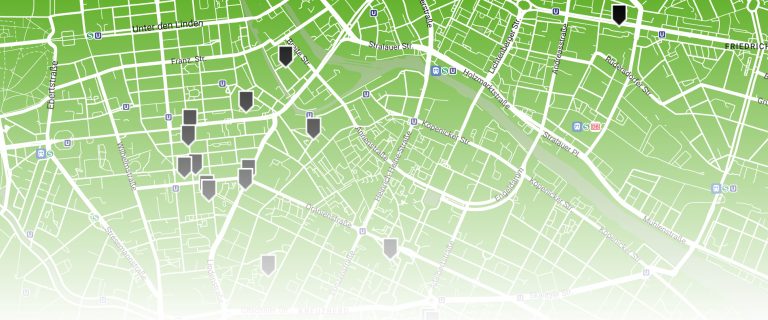 We begin our tour with a cluster of galleries around Kochstraße in touristy "Stadtmitte." The area's bustle is already forgotten at the first stop as Wolfgang Laib draws us directly into his meditative, non-linear thought. Galerie Buchmann is showing a group of his timeless rice houses, which he has continuously produced in different forms and iterations since 1984 without sacrificing their original, auratic radiance. This selection shows the subtle differences and inherent qualities of the varied materials the artist combines into the cyclically recurrent ur-form of the house.
Carlier | Gebauer is also inviting viewers to become lost in a fairy-tale setting. Based on an idea by Friedrich Meschede and inspired by Alice in Wonderland, the gallery space has been set up as a stage for the artists involved in the gallery's thirty-year history. It is showcasing playful and fabulous works by Lena Henke, Asta Gröting, Bojan Šarčević, and Arturo Herrera, as well as dematerialized and large-scale works by Nida Sinnokrot, Rosha Yaghmai, and Thomas Schütte—all of which aim to entice us both visually and emotionally.
The great Senegalese artist El Hadji Sy also broadens our conventional thinking—in this case, our Eurocentric perspectives—with his first solo exhibition in Berlin. Barabra Thum is showing paintings of the painter, performer, and activist who counts among Senegal's artistic avant-garde. After a period of using only his feet to paint as a gesture of political resistance, he has predominantly used burlap rice sacks as a canvas for his extensive collages since the 1980s. Sy says, "for me, the surface has to be like a skin, a physicality that I can work on and that changes." He spent a couple of weeks in Berlin in advance of his exhibition to realize his monumental site-specific piece.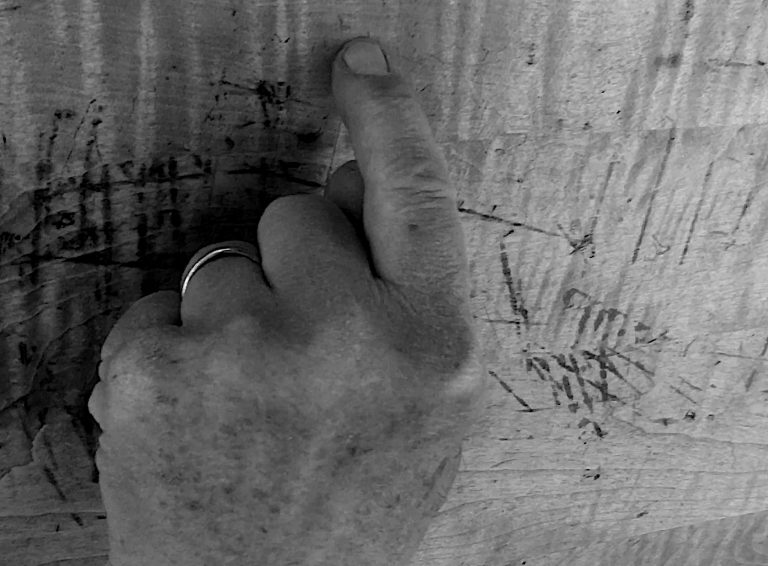 The great Bruce Naumann also exhibits handiwork in his eighteenth (!) exhibition with the Konrad Fischer Galerie. In the most recent video installation, Practice, the artist's hands are visible as they move over an old wooden table and repeatedly mark an 'x' on its surface. With this motif, Naumann refers to a historical contract between the Canadian government and the Isapo-Mixuka, whose chieftain signed the document with an 'x' rather than his name. An overview of the artist's graphic works stretching back to Naumann's time as a student also accompanies the installation.
Adrian Sauer brings us back to the now with his conceptual photography at Klemm's: Abstraction Layer—the exhibition's title—showcases two of the German artist's most recent group of works and highlights his ongoing engagement with the possibilities for digitally depicting the world. Where Sauer addresses the human ability to perceive digital shades on a grayscale in 256 Graustufen, his Ziegel series digitally paints the elemental building blocks of the real world.
Next door, at Soy Capitán, there is finally a female artist: the young Korean-American Rachel Youn, born in 1994, installed kinetic sculptures that "move wildly and shamelessly in a way my body cannot freely express." Humor is an entirely permissible means of luring the viewer flailingly into the process of interpreting these ecstatic and self-destructive symbols.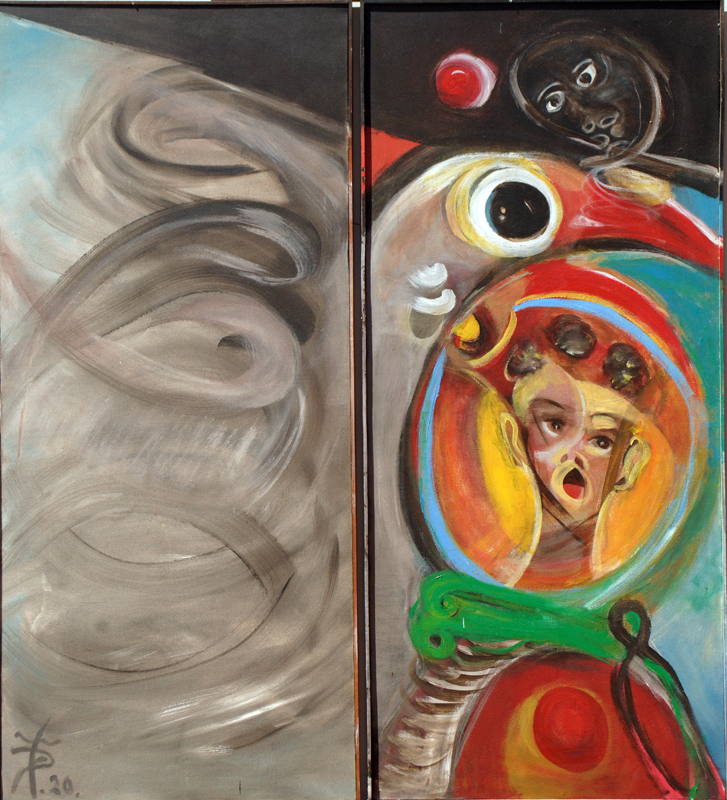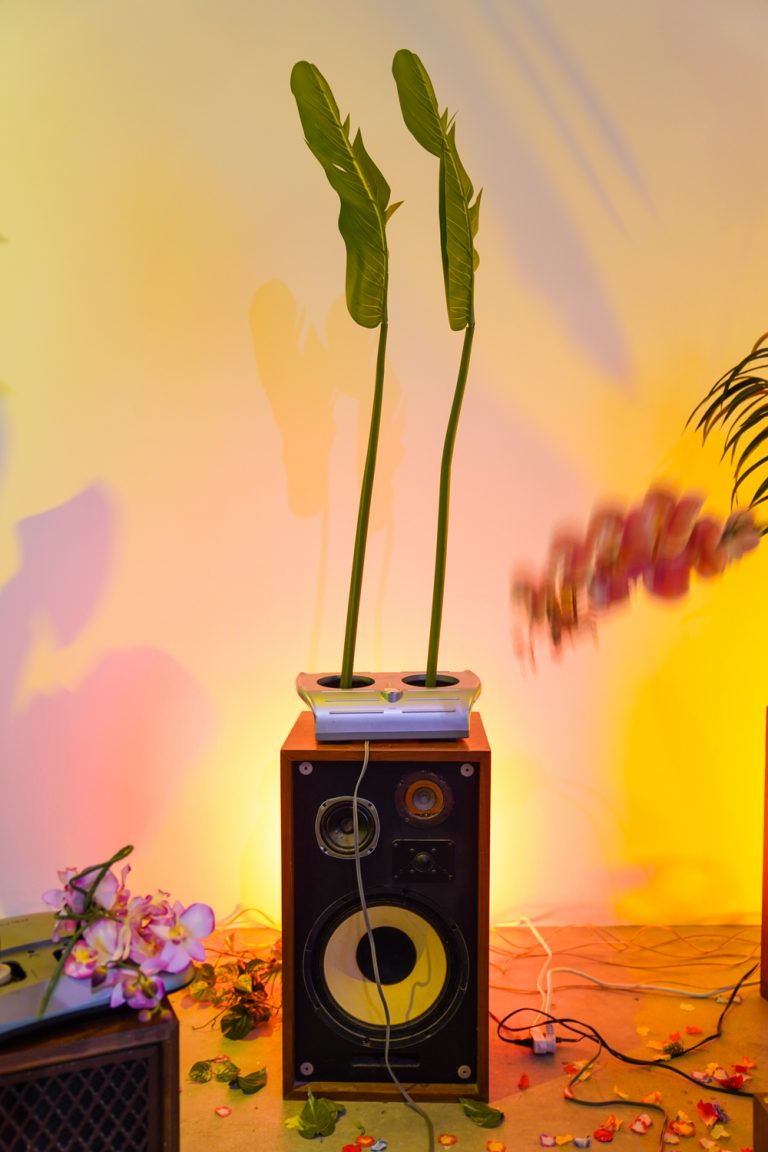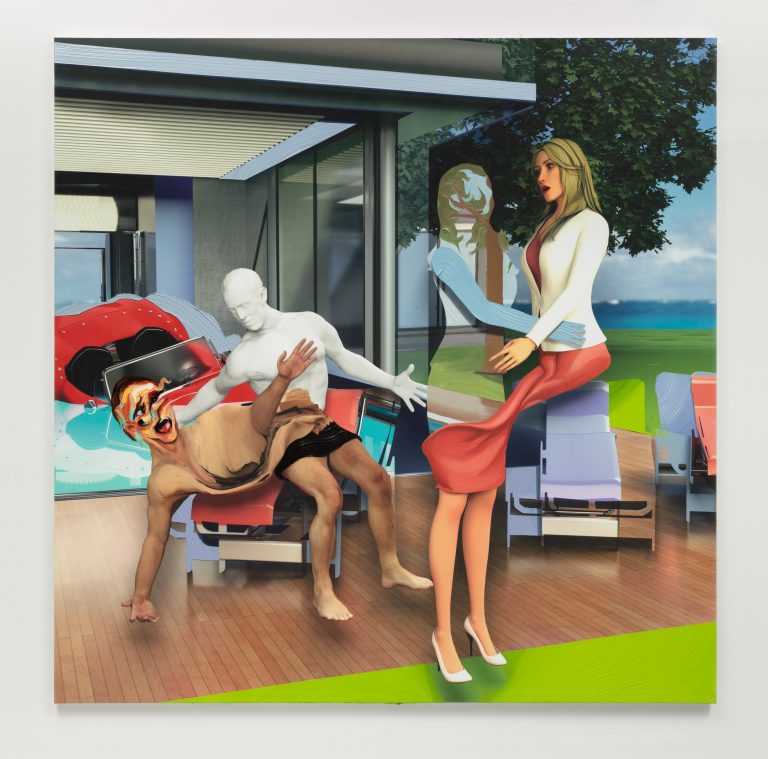 Thus elated, we stroll onward toward the Landwehr Canal to Kraupa-Tuskany Zeidler, where one part of Pieter Schoolwerth's two-part exhibition is on view. For his latest paintings under the title Rigged, the New York artist acquired various CGI animated figures, separated their surfaces from their underlying structures, and reworked them to expose the fluid design logic and possibilities for manipulation in these digital, visual worlds.
We would have to travel to New York for the other part of the exhibition; instead, we simply go next door to view the sculptures of a young compatriot from Schoolwert at the Barbara Weiss Trautwein & Herleth Gallery. Ser Serpas (*1995) is a collector as well, but her work focuses on physical, found objects that could generally be described as having no value. Her ephemeral assemblages only survive if they are sold; the artist thus succeeds at making tangible the breath "that has passed through [the discarded things]". Serpas addresses the productivity of the depleted and raises the peculiar construction of value for discussion by poetically displaying the wounds of these things.
At this point, we turn back toward Lindenstraße for John Zurier's new monochrome paintings awaiting us at Galerie Nordenhake. Living between California and Iceland, the artist explores traditional Japanese and Chinese painting in this group of works with a particular focus on the intertwinement of nature and poetics. "I am also drawing on my experiences in California and Iceland, seeing movement and stillness, closeness and distance, not as opposing forces but simultaneous in the present. The sound of the wind and the light and air of an empty room." Level Distance shows the primarily monochrome "results" of this research, which call for calm and subtly nuanced observation.
Egyptian-Canadian artist Anna Boghiguian's first exhibition at KOW allows us to glimpse the artist's nomadic movements through two large installations. In A Tin Drum That Has Forgotten Its Own Rhythm, Boghiguian explores the industrial history of tin mining in Cornwall. She developed her installation The Silk Road in Japan in 2021; it deals with the history of the Silk Road, which linked Japan with her Egyptian homeland. The artist repeatedly cross-references world events to discover unfamiliar narrative threads and weave local moments of humans and ideas with global developments of markets and commodity flows.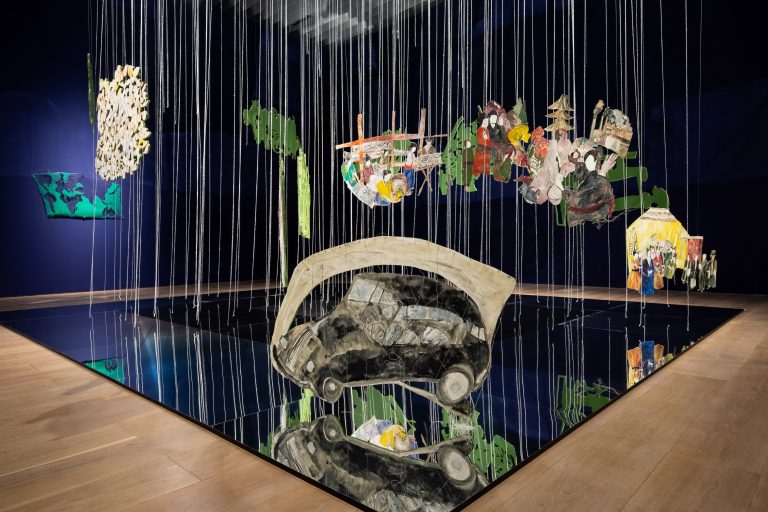 As Eva Menasse writes in the catalog text for Xenia Hausner's exhibition at König, the artist's world "is populated by women with challenging gazes. If anyone is looking for feminine self-confidence—they will find it here." As templates for her large-format works, the Viennese painter—based in Berlin since the 1980s—builds elaborate sets photographed and then used as models for Hausner's painterly interpretation. Her pictorial scenarios remain, however, fragmented and ambivalent like life itself. Zhanna Kadyrova's art—on display in the chapel at König—addresses what happens when life suddenly changes from one day to the next. The Ukrainian artist lived in Kyiv until the beginning of the war and then fled to the western Ukrainian region of Transcarpathia (Zakarpatska Oblast). There she created a group of new sculptures from the round stones of a riverbed. Only Ukrainians can properly pronounce the exhibition's title; Palianytsia literally refers to a round variety of wheat bread but has become a symbol of Ukrainian resistance.
Sweetwater presents works by the young artist Luzie Meyer, which transport us to a unique world with two marionettes—an actor couple. We encounter these two protagonists in photographs and an audio piece and observe how they confront the withdrawal of certainty through linguistic games and sonorous experiments.
We conclude our tour at the most beautiful display window in the city—a position "played at" by Allan McCollum and Matt Mullican. Galerie Thomas Schulte has also placed earlier works by McCollum from the 1970s on display in other sections of the gallery. In this period, McCollum was still a student at CalArts Institute, where he met Mullican. The two have remained friends ever since. Your Fate is a collaborative work by the two artists that takes the form of a fortune-telling game that can easily answer the unanswerable questions of our future. We can determine our fate with the aid of twenty-five dice with different symbols on variously colored tables. If this is not suspenseful enough, you can then purchase a framed drawing of a significant motif from this series. However, the motif drawing is purchased blindly; only after acquiring the work may one remove the cover to reveal what fate has in store…

In der touristischen "Stadtmitte" beginnen wir unsere Tour in dem Cluster der Galerien rund um die Kochstraße. Schon beim ersten Stopp lässt uns Wolfgang Laib den Trubel dieser Gegend vergessen und zieht uns hinein in sein nicht-lineares, meditatives Denken. Die Galerie Buchmann zeigt eine Gruppe seiner zeitlos wirkenden Reishäuser, die seit 1984 in verschiedenen Versionen und Ausführungen kontinuierlich entstehen, ohne ihre ursprüngliche, auratische Ausstrahlung einzubüßen. Diese Auswahl zeigt die feinen Differenzen und die inhärenten Qualitäten der variierenden Materialien, mit denen der Künstler die zyklisch wiederkehrende Ur-Form eines Hauses kombiniert.
Auch die Galerie Carlier Gebauer lädt die Besucher:innen ein sich in einem märchenhaften Setting zu verlieren: Nach einer Idee von Friedrich Meschede und inspiriert durch Alice im Wunderland wurde der Galerieraum als Bühne für die Künstler der 30-jährigen Galeriegeschichte inszeniert. Diese wartet einerseits mit verspielten und fabelhaften Arbeiten von Lena Henke, Asta Gröting, Bojan Šarčević oder Arturo Herrera und andererseits mit entmaterialisierten und raumgreifenden Werken von Nida Sinnokrot, Rosha Yaghmai und Thomas Schütte auf, die uns gleichermaßen visuell wie emotional verführen wollen.
Unsere gängigen Vorstellungen, in diesem Fall unsere eurozentristische Perspektive, erweitert auch der große senegalesische Künstler El Hadji Sy, der erstmals in einer Einzelausstellung in Berlin zu sehen ist. Die Galerie Barbara Thum präsentiert die Gemälde des Malers, Performers und Aktivisten, der zur künstlerischen Avantgarde des Landes zählt. Nachdem er als widerständige politische Geste lange Zeit nur mit seinen Füßen malte, verwendet er seit Mitte der 1980er Jahre vorwiegend Jute-Reissäcke als Untergrund für seine raumgreifenden Collagen. "Für mich muss die Oberfläche wie eine Haut sein, eine Körperlichkeit, an der ich arbeiten kann und die sich verändert" [For me, the surface has to be like a skin, a physicality that I can work on and that changes], sagt Sy, der für die Vorbereitung seiner Ausstellung einige Wochen in Berlin verbracht hat, um ein monumentales in-situ-Werk zu realisieren.
Handarbeit präsentiert auch der große Bruce Naumann in seiner 18. (!) Einzelausstellung mit der Galerie Konrad Fischer. In der jüngsten Videoinstallation Practice sind die Hände des Künstlers zu sehen, wie sie sich langsam über einen alten Holztisch bewegen und wiederholend ein X auf der Oberfläche markieren. Naumann verweist mit diesem Motiv auf einen historischen Vertrag zwischen der kanadischen Regierung und den Isapo-Mixuka, deren Häuptling das Dokument anstatt mit seinem Namen lediglich mit einem "X" unterzeichnet hat. Neben dieser Installation gibt es auch einen Überblick über das grafische Werk des Künstlers, das seit Naumanns Studienzeit entstanden ist.
Bei Klemm's holt uns Adrian Sauer mit seiner konzeptuellen Fotografie zurück ins Jetzt: Abstraction Layers, so der Titel der Ausstellung, zeigt zwei der jüngsten Werkgruppen des deutschen Künstlers und verdeutlicht seine fortwährende Auseinandersetzung mit den Möglichkeiten, die Welt digital abzubilden. Während Sauer in 256 Graustufen die menschlichen Fähigkeiten thematisiert, die digitalen Schattierungen zwischen Schwarz und Weiß wahrzunehmen, malt er in seiner Ziegel-Serie die elementaren Bausteine unserer realen Welt digital nach.
Nebenan endlich eine Künstlerin: die junge koreanisch-amerikanische Rachel Youn, Jahrgang 1994, hat bei Soy Capitán ihre kinetischen Skulpturen installiert, die "sich wild und schamlos auf eine Weise bewegen, die mein Körper nicht frei ausdrücken kann." [move wildly and shamelessly in a way my body cannot freely express.] Dabei ist Humor ein durchaus zulässiges Mittel, um die Betrachter fuchtelnd in die Deutungsprozesse dieser ekstatischen und autodestruktiven Sinnbilder hinzulocken.
So beschwingt schlendern wir weiter Richtung Landwehrkanal zu Kraupa-Tuskany Zeidler, wo ein Teil der zweiteiligen Ausstellung von Pieter Schoolwerth zu sehen ist. In Rigged präsentiert der New Yorker seine neusten Malereien, für die er verschiedene CGI-animierte Figuren erworben, anschließend deren Oberflächen von den darunterliegenden Strukturen getrennt und überarbeitet hat, um die fluide Gestaltungslogik und Manipulationsmöglichkeiten dieser digitalen Bildwelten zu entblößen. Für den anderen Teil dieser Präsentation müssten wir nach New York reisen; stattdessen gehen wir einfach nach nebenan, um in der Galerie Barbara Weiss Trautwein & Herleth die Skulpturen einer jungen Landsmännin von Schoolwert anzutreffen. Ser Serpas (*1995) ist ebenso eine Sammlerin, jedoch fokussiert sie sich vor allem auf physische Fundgegenstände, die man gemeinhin auch als wertlos bezeichnen könnte. In ihren ephemeren Assemblagen, die nur bestehen bleiben, insofern sie verkauft werden, gelingt es der Künstlerin, den Atem der verworfenen Dinge, "der durch sie hindurchgegangen ist", begreifbar zu machen. Durch die poetische Zurschaustellung der Wunden dieser Dinge thematisiert Serpas eine Produktivität des Erschöpften und stellt die seltsame Konstruktion von Wert zur Diskussion.
An dieser Stelle machen wir kehrt und bewegen uns Richtung Lindenstraße, wo uns in der Galerie Nordenhake die neuen monochromen Bilder von John Zurier erwarten. Der zwischen Kalifornien und Island lebende Künstler hat sich für diese Werkgruppe mit traditioneller japanischer und chinesischer Malerei auseinandergesetzt, insbesondere deren Verschränkung mit Poesie und Natur. "I am also drawing on my experiences in California and Iceland seeing movement and stillness, closeness and distance, not as opposing forces but simultaneous in the present. The sound of the wind and the light and air of an empty room." Level Distance zeigt die vornehmlich monochromen "Ergebnisse" dieser Recherchen, die Ruhe und eine fein nuancierte Betrachtung einfordern.
Nebenan bei KOW ist erstmals eine Ausstellung der ägyptisch-kanadischen Künstlerin Anna Boghiguian zu sehen, in der sich die nomadischen Bewegungen der Künstlerin mittels zweier großer Installationen erahnen lassen: In A Tin Drum That Has Forgotten Its Own Rhythm setzt sich Boghiguian mit der industriellen Geschichte des Zinnbergbaus in Cornwall auseinander. Ihre Installation The Silk Road entstand 2021 in Japan und widmet sich der Geschichte der Seidenstraße, die Japan mit ihrer ägyptischen Heimat verband. Immer wieder liest die Künstlerin das Weltgeschehen quer, entdeckt dabei ungekannte narrative Fäden und verwebt so lokale Momente von Menschen und Ideen mit globalen Entwicklungen von Warenströmen und Märkten.
Die Welt von Xenia Hausner, die bei König zu sehen ist, "ist voll von Frauen mit herausfordernden Blicken. Wer nach weiblichem Selbstbewusstsein sucht, wird es hier finden", schreibt Eva Menasse in ihrem Katalogtext. Als Vorlagen für ihre großformatigen Werke baut die Wiener Malerin, die seit den 1980er Jahren auch in Berlin zu Hause ist, aufwendige Sets, die abfotografiert werden, bevor Hausner diese Modelle malerisch interpretiert. Ihre malerischen Szenarien bleiben jedoch fragmentarisch und ambivalent, so wie das Leben. Was passiert, wenn sich das Leben von heute auf morgen schlagartig verändert, davon spricht die Kunst von Zhanna Kadyrova, die in der Chapel bei König gezeigt wird. Die ukrainische Künstlerin lebte bis zum Kriegsbeginn in Kiew und floh dann in die westliche Region Transkarpatien. Dort entstand aus den runden Steinen eines Flussbettes eine Gruppe von neuen Skulpturen, deren Titel nur von Ukrainern richtig ausgesprochen werden kann. Palianytsia ist eigentlich ein rundes Weizenbrot, das zum Symbol für den ukrainischen Widerstand geworden ist.
Sweetwater präsentiert Werke der jungen Künstlerin Luzie Meyer, die uns mit zwei Marionetten – einem Schauspieler-Ehepaar – in eine ganz eigene Welt entführt. Wir begegnen diesen beiden Protagonisten in Fotografien und einer Audioarbeit und beobachten, wie sie durch sprachliches Spiel und klangvolle Experimente dem Entzug von Gewissheit entgegenstellen.
Abschließen wollen wir unseren Rundgang am schönsten Schaufenster der Stadt, das heuer von Allan McCollum und Matt Mullican "bespielt" wird. Von McCollum sind in den anderen Räumen der Galerie Thomas Schulte weitere frühe Werke aus den 1970er Jahren zu sehen. Zu jener Zeit studierte McCollum noch am CalArts Institute und lernte dort Mullican kennen, mit dem ihm seither eine Freundschaft verbindet. Your Fate ist eine Gemeinschaftsarbeit der beiden Künstler, die die Form einen Wahrsagespiels angenommen hat und mit der sich die unbeantwortbaren Fragen unserer Zukunft problemlos beantworten lassen. Mit Hilfe von 25 Würfeln mit unterschiedlichen Symbolen können wir auf verschiedenfarbigen Tischen unser Schicksal bestimmen. Wem das noch nicht zu dramatisch ist, der kann eine gerahmte Zeichnung mit einem bedeutungsvollen Motiv dieser Serie erwerben. Jedoch unwissend, denn erst nach Erwerb des Werkes darf man die Abdeckung abnehmen und entdecken, was das Schicksal für uns bereit hält…